TRUE DELIGHT
The mowing of the mountain meadows and the hay harvest afterwards, the shearing of the sheep, milking and processing the milk on our own farm – all that connects us with nature and its raw materials. The gourmets among our guests delight in this. When our head chef Rudl turns this high-quality regional produce into delicious treats, you can taste it: the fresh air, the mountain sun of the Ötztal valley and the love we have for our homeland.
This is enjoyment at the highest level.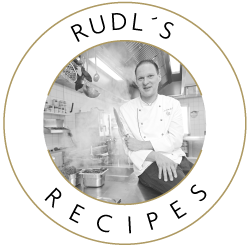 ---
CHANTERELLES IN CREAM SAUCE
WITH BREAD DUMPLINGS
(for 4 persons)
INGREDIENTS
for the Chanterelles
800 oz Chanterelles
60 oz butter
80 oz onions, cut in small pieces
200 oz sour cream
4 cl cream
10 oz flour
2 soup spoons parsley, finely
chopped
Juice of a half lemon
Salt
Pepper, white, ground
for 5-6 dumplings
180 oz dry bread cubes (used to
make turkey stuffing, for example)
3 eggs
16 cl milk
60 oz butter
60 oz onions
1 soup spoon parsley, finely
chopped
salt
Chanterelles
Clean and wash the Chanterelles, cut the larger once into small pieces, heat the butter in a casserole, sweat the onions in it, add salt and pepper and stir it. Cook it covered for approx. 10 minutes. Add cream and cook it non covered, (reducing). Mix sour cream and flour, and add it to the chanterelles, finalize it with parsley, juice of lemon salt and pepper. Cook it for another 3 minutes.
Dumplings
Heat the butter and sweat the onion in it, add it to the bread cubes. Stir the eggs and add them also to the bread cubes, add hot milk to the bulk, agitate burly and add parsley. Cook salted water. Make – with wet hands – dumplings, hefty compact rotary, until the dumpling get a creamy smooth surface. Boil up the dumplings, let them infuse. Took them out of the water and serve them.
download recipe
---
SHEEP`S CHEESE PARFAIT
(for about 6 persons)
INGREDIENTS
sheep´s cheese parfait
200 g sheep´s cheese
¼ l sour creme
1/8 l boullion (clear soup)
4 leafes of gelatine
2/8 l cream
salt, pepper
fresh arugula
tomato-olive confit
4 beef tomatos
green and black olives
green onion
olive oil
Sheep´s cheese parfait
Mix the sheep´s cheese and the sour creme. Then add boullion and stir in 4 leafes of gelatine (soaked). Whisk stiff the cream and fold it in. Season to taste with salt and pepper. Put everything in the fridge for at least 4 hours. For the tomato-olive confit, carve the tomatos and heat them up for a short while in boiling water. Afterwards skin the tomatos and extract the pits. Cut the olives, tomatos and green onion into small cubes. Sweat the green onions in olive oil. Add tomatos- and olive cubes. Season with salt and pepper. Cool it for a while. Arrange the sheep´s cheese parfait on a nest of arugula and garnish with with tomato-olive confit.
ENJOY YOU MEAL!
download recipe
---
PARFAIT OF GOAT CHEESE
ON LEAF SALAD
INGREDIENTS
200 g goat cheese
¼ l sour cream
salt, pepper
1/8 l bouillon
4 sheets of gelatine
1/8 l whipped cream
Preparation
Mix goat cheese with sour cream, salt and pepper. Stir in gelatine which has been dissolved in bouillon. Gently fold in whipped cream. Place the mixture in the terrine dish and leave to cool. Serve with fresh salad, olive oil and balsamic vinegar.
download recipe
---
CREAMY BROWNED SLICED OMELETTE
(for about 6 persons)
INGREDIENTS
8 eggs
0,25l milk
150g flour
70g granulated sugar
100g soured cream
1 pinch salt
1 TL vanilla sugar
grated lemon peel
Rum
200g fresh berries
(blueberries, raspberries,
strawberries)
Preparation
Stir milk, sour cream and flour smoothly, stir in whole eggs with a fork – until the yolk ruptures.
Then add a pinch of salt, a little sugar and the flavourings. Heat butter in the pan and pour in the batter (2-3 dm deep). Add the berries and put on the lid. Once the batter is cooked chop it up into small pieces and finish it off with some butter and the remaining sugar.
At the end flambé with Rum – then sprinkle with icing sugar and then it is ready to serve.
ENJOY IT!
download recipe
---
CHEESE DUMPLINGS WITH WILD GARLIC SAUCE
AND SAUTED WHITE CABBAGE
(for 4 persons)
INGREDIENTS
ingredients for the dumplings
200g cubes of white bread
30g butter
40g shallots
130g mountain cheese (strong)
a little flour
1/8 l lukewarm milk
Salt, Pepper, nutmeg, parsley
3 Eggs
concentrated butter to fry
ingredients wild garlic sauce
4 shallots
40g butter
1 garlic toe
2 cl white wine
1 l vegetables stock
½ l cream
Salt, Pepper
2 Ts Creme frâiche
1 Ts mascarpone
wild garlic
ingredients white cabbage
1 Ts sugar
200g cubes of white cabbage
8cl white wine
Salt, Pepper, nutmeg, caraway
chervil
Preparing the cheese dumplings
Brown the butter with sliced shallots and add it to the bread cubes. Mix the mountain cheese (also small cubes), flour, lukewarm milk and spices with bread and shallots. Add now the eggs. Form the mass in small dumplings and press them between your hands and fry them slowly in concentrated butter.
Preparing the wild garlic sauce
Brown shallots and garlic. Deglaze with white wine and boil it with vegetables stock and cream. Add all spices. It should reduce approximately half. Mix it and strain through a sieve. Mix now Creme frâiche, mascarpone und wild garlic with the sauce.
Preparing the sauted white cabbage
Caramelized the sugar and add white cabbage and white wine. Flavour and let it cook. But not to long. At the end add the chopped chervil.
download recipe
---
NON PLUS ULTRA
(for approx. 60 pieces)
INGREDIENTS
Dough:
150 g sifted flour
150 g butter
2 yolk
½ pack vanilla sugar
For topping:
2 egg whites
300 g crystal sugar
Filling:
Hot rasberry jam
Preparation
Mix the flour with the other ingredients in order in a mixing bowl and knead with the hand mixer (dough hook) to a dough. Cool for ½ hour.
Roll the dough about 3 mm thick and cut out discs (3 cm Ø). Give the slices on a lightly greased baking tray.
Whip egg whites and add the sugar gradually and beat until stiff (average sample). Fill the meringue into a icing bag with a medium smooth spout. Make a small dot as topping on the slices. Put the plate in the middle of a warm oven, bake at 120 degrees about 25min. Add the cold biscuits with hot jam together.
ENJOY!
download recipe
---
OBERGURGLER MOUNTAIN LAMB
WITH STRING BEANS & POTATO GRATIN
(for 4 persons)
INGREDIENTS
mountain lamb
1 kg saddle of lamb
herb oil
garlic
salt, pepper
olive oil
Potato gratin
½ kg potatoes, fatty, raw, peeled
¼ l cream
50 g cheese (spicy), grated
salt, garlic (pressed)
Nutmeg (grated)
a bit of butter
sting beans
about 500 g beans
Preparation of lamb
Marinate the saddle of lamb with herb oil and garlic for 24 hours. Cut the meat into portions, add salt and pepper, sear meat in a hot pan and bake in the oven at 85° C until they are medium! (depends one size) Roast the sting beans (if they are fresh, boil them before in hot water) and the meat in garlic butter. Now they are ready to serve.
Preparation of potato gratin
Cut the potatoes into 2 mm thick slices. Boil cream, salt, garlic and nutmeg, add potato slices and cook until it become a creamy mass – stir continuously. Grease ovenproof dish with butter, fill it with the mass and sprinkle with cheese.
Bake in the oven (180° C) for about 35 minutes.
ENJOY!
download recipe
---
PLUM DUMPLING
INGREDIENTS
Paste
½ kg potatoes
165 g coarse flour
1 soup spoon wheat semolina
1 egg
Salt
approx. 8 plums
approx. 8 pieces of lump sugar
crumbs
100 g butter
150 g white bread crumbs
50 g sugar
1 soup spoon vanilla sugar
Preparation
Cook the potatoes, peel them and mash them with a potato
ricer. Let the potatoes cool down for a while. Mix them with
flour, semolina, egg and salt and knead them all.
Remove the core of the plum and put a piece of lump sugar in it.
Form a fat roll with the pastry and cut 8 equal slices. Put one
plum on each slice and form dumplings. (Take care that there are
no small cracks.)
Cook salt water and let the dumplings brew for about 12 minutes
with low heat. (Do not cover them!)
Roast the white bread crumbs with butter, sugar and vanilla
sugar.
Roll the dumplings in the crumbs and serve them with powder
sugar on top.
GOOD SUCCESS!
download recipe